Helping Students Stay Connected to Their School
NortonLifeLock funding supports a wellness kit for each student at Collier Elementary in Tucson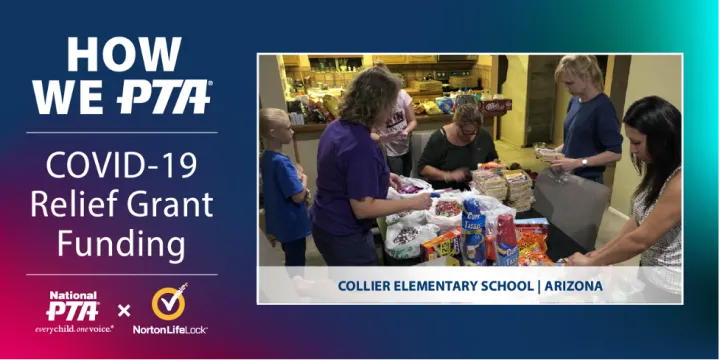 Earlier this year, National PTA established a COVID-19 relief funding program to support PTAs and schools nationwide in the areas of food security, mental health and social/emotional support, distance learning and internet and device access. After hearing how National PTA was flooded with nearly 900 applications for COVID relief grants this summer, NortonLifeLock, a longtime partner of ours, stepped in to fund all the eligible PTAs that applied in Arizona.
Four months later, we've begun to hear how these grants led to innovative and vital relief for these Arizona schools. For example, Collier Elementary School in Tucson, Ariz., found one of their greatest challenges of the pandemic was keeping students and families connected to the school during distance learning.
To overcome this challenge and bring the school community together, the school's PTA used their COVID-19 relief fund grant, sponsored by NortonLifeLock, to create boxed kits for mental health and social and emotional support. The boxes had themes that included school spirit and international and academic games, as well as activities to support math literacy, artistic expression, and STEM exploration.
They also created Monster Mash and Elf Workshop kits, which tied back to their traditional in-school activities for Halloween and the winter holidays. We are proud of the PTA's creativity in helping kids stay connected to their school during this unusual time.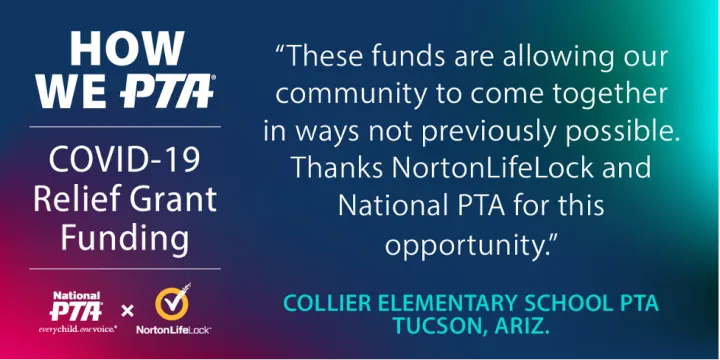 As most K-12 education continues to be virtual during the 2020–2021 school year, we are grateful to have corporate partners, like NortonLifeLock, that recognize the need to ensure that students remain safe, connected and able to participate.
Sponsoring COVID-19 relief fund grants is not the only way NortonLifeLock partners with National PTA. For years we have collaborated on the association's PTA Connected initiative, to provide caregivers with digital wellness tools and resources. Together we also developed The Smart Talk, a tool designed to help families set tech ground rules together. Using guided questions, the easy-to-use tool addresses privacy, screen time, social media etiquette, app usage, texting and calling to create a customized agreement that can be printed and signed. With youth using devices more than ever before and screen time sky rocketing during the pandemic, now is a great time to have The Smart Talk with your family.
To learn more about National PTA's work, please visit PTA.org.
About National PTA
National PTA® comprises millions of families, students, teachers, administrators, and business and community leaders devoted to the educational success of children and the promotion of family engagement in schools. PTA is a registered 501(c) (3) nonprofit association that prides itself on being a powerful voice for all children, a relevant resource for families and communities, and a strong advocate for public education. Membership in PTA is open to anyone who wants to be involved and make a difference for the education, health and welfare of children and youth.
Want to comment on this post?
We encourage you to share your thoughts on your favorite social platform.