NPower Graduate Anthony Plummer Believes We Can Create a Stronger, More Responsive Sector
Individuals without a college degree can help fill the cyber talent shortage
Hundreds of thousands of cyber security positions remain vacant around the world, however, companies still struggle to find qualified talent. Additionally, research shows individuals without a college degree could fill a large percentage of these positions—creating a tremendous opportunity to train candidates for these roles. NortonLifeLock is proud to work with nonprofit educational partners addressing the significant shortage of qualified cyber security candidates while helping change the trajectory of the tech workforce, specifically for underrepresented minorities, women, and veterans. Today we are excited to feature a guest post from Anthony Plummer, an NPower graduate and US Navy Veteran.
Diverse talent is key to creating quality products that are commensurate with consumer demand. The inherent value of a diverse team provides slipstream versatility for cyber defense platforms that range the bilateral spectrum of volume and complexity. How can we know what type of cyber safety tools different communities need without a diverse cyber workforce creating these tools?
While I now work as a Production Operations Senior Analyst at the Federal Reserve Bank of New York, my varied career path has taught me that persistence, resilience, and adaptation are solid foundations to build and sustain a career in Cybersecurity. I believe it is important to recognize the benefits and value you provide not only to the business, but your communities too. As leaders and role models in a prestigious, high-stakes field, we set examples for others who share similar interests and do not know which directions to turn, or have that metaphorical "map".
I enlisted in the US Navy after high school graduation, a decision that has continued to pay off. Over the next 6 years, my time in Europe and the Pacific and Atlantic Oceans provided me with exposure to different cultures, languages, and lifestyles. I returned home with a worldly perception, a technical expertise in heavy machinery, life survival skills, and a knack for business education. Though I returned with all of this I spent the next several years working retail jobs without a college degree.
These retail experiences led to a better understanding of business, which coupled with a lifelong interest in IT, prepared me for a serendipitous turn of events—learning about a job skills training program at NPower. NPower's mission is to launch digital careers for underserved communities and non-traditional students while providing much-needed diversity in tech.
NPower's programs, which are free for students, provide the skills needed for high-demand, long-term careers in technology. I signed up for NPower's Tech Fundamentals Program and was in the same class as fellow military member Avneet Hall. After receiving my A+ certification, I began the internship portion of my training at Bank of America and then was brought on as a contractor servicing their information technology service management team.
During my time at Bank of America I learned how the corporate sector operated and adapted to rapid changes in technology. I learned how to leverage modern tools for numerous lines of business in various departments to provide insights into where and when they should be applied.
Although it was tempting to renew my contract with Bank of America, after two years, I was ready to take my tech career to the next level. NPower staff let me know about their Cybersecurity Training program, funded in part by NortonLifeLock, and I jumped at the opportunity to learn more. The Cyber program combines classroom-based training with meaningful hands-on internship experience that prepares graduates to be successful in cyber security jobs.
Cybersecurity is a field that continuously grows and adapts to the threat landscape and senior level hiring managers often do not understand non-traditional backgrounds. These managers want to see a college degree and applicants from diverse backgrounds, even with top certifications, may be eliminated for superficial reasons.
I completed NPower's Cybersecurity coursework and did my internship at First Data where I was graciously afforded the opportunity to manage sizable workloads that further developed my business acumen and behavior. After six months, the company merged with Fiserv. Fortunately, I was able to participate in the transition until the end of the Internship program in August 2019. As I interviewed for cybersecurity jobs, I decided to continue building my skills by joining NPower's Cloud Computing program.
Just as the stress of unemployment began to really set in, I was offered a position with the Federal Reserve Bank of New York and started there in November 2019. My job is challenging and rewarding, and I have a great work environment. I love troubleshooting and uncovering vulnerabilities; discovering risks, highlighting exposures and suggesting corrective action plans. My skills heavily impact change and provide the nation with security and trust it can depend on.
NPower has been a large part of my career and life journey. The organization helped give me the skills and work experience I needed to be seen as an asset in the business world. What some hiring managers don't realize is the scrappiness urban young people bring to the table. Persistence, hard work, and the ability to quickly pivot and acquire new skills has led me to success, and I know there are other like-minded veterans and urban youth who would thrive in a cyber career if given the opportunity.
I believe organizations like NPower are catalysts for systemic change. With more diverse voices in cybersecurity, we become a stronger, more responsive sector.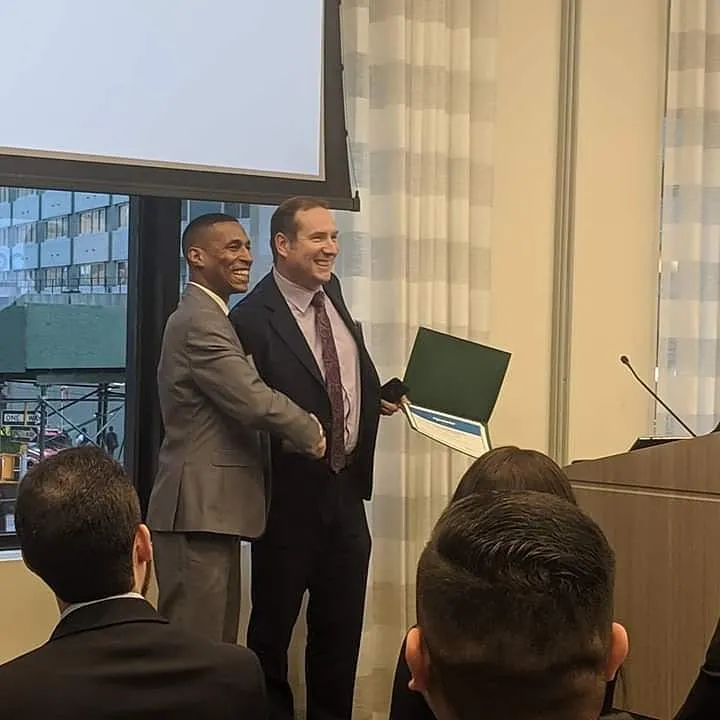 NortonLifeLock would like to send a special thank you to Patrick Cohen, VP of Strategic Partnerships at NPower, who is leaving the organization this month. Patrick has been at NPower for nearly 12 years and led the creation of NPower's Cyber Program. Patrick has managed corporate partnerships, curriculum development, academic and career advising, mentoring, volunteerism, tutoring and counseling for thousands of students and has helped these students change their lives by securing corporate internships and job placement for program graduates. We wish Patrick well in his move to Florida and are grateful for his partnership over the last six years.
Learn more about NPower and get involved – as an aspiring cyber professional, intern host, or hiring partner, at https://www.npower.org.
Want to comment on this post?
We encourage you to share your thoughts on your favorite social platform.