Supporting Gender Equity
NortonLifeLock partners with Girl Up to support the next generation of women leaders
NortonLifeLock supports gender equity and our commitment to equality for women and girls is part of our everyday culture. Within our own walls, we intentionally strive to hire and promote women and support an active employee resource group, WONDER (Women Outreach and Development Resources). We also use our philanthropic giving to support increasing the representation of women and girls in technology, to help women and girls stay safe online, and to empower women and girls as leaders and changemakers.
Today, we are thrilled to support Girl Up's 2022 Global Leadership Summit as the presenting sponsor. Girl Up is a movement to advance girls' skills, rights, and opportunities to be leaders. The organization was founded by the United Nations Foundation in 2010, and since then, Girl Up's leadership development programs have impacted 125,000 girls through 6,000 clubs in 130 countries and all 50 U.S. states!
Safe Online Spaces and Equity for Girls
When women and girls access the internet, they face online violence more often than men through various forms of gender-based violence including physical threats, sexual harassment, stalking, and "zoombombing." This violence has a devastating impact on the lives of women and girls including anxiety, stress disorders, depression, trauma, panic attacks, loss of self-esteem, and reduced use of online services.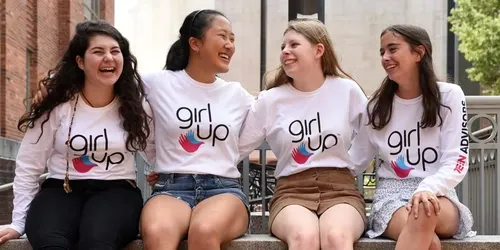 NortonLifeLock's $100,000 commitment will help raise awareness about cybersecurity threats impacting today's youth and how to implement best practices for digital safety. As virtual programming becomes an ever-present part of youth development work and the new hybrid world, Girl Up seeks to be a leader in creating safe spaces for youth to gather and learn. In addition to supporting the Summit and raising awareness of cybersecurity and cyberbullying, NortonLifeLock employees will be able to volunteer with Girl Up leaders to offer mentoring and to support International Women's Day.
Change is Now
Girl Up is inspiring a generation of girls to be a force for gender equality and social change. Girl Up describes their young participants as "energized activists," and the organization advocates for sexual and reproductive health, rights, and justice, including menstrual equity, and equal access to sexual and reproductive healthcare.
Girl Up's Global Leadership Summit started as an in-person event to unite Girl Up leaders in the region to be a force for social good, and in recent years has expanded its reach online to Girl Up leaders worldwide. The two-day event, which concluded today, included inspiring speakers, workshops, youth-led roundtable discussions, and a "Day of Action" that enabled attendees to turn their passions into well-thought-out actions by partnering them with young leaders around the world.
At NortonLifeLock, we believe informed, empowered girls, operating in safe digital spaces can help create a better future for all. And we are proud to support these future leaders – politicians, CEOs, cybersecurity experts, teachers, lawyers, judges, and more.
If you missed the Summit, you can watch NortonLifeLock in action here:
Want to comment on this post?
We encourage you to share your thoughts on your favorite social platform.