How Leaders Use Public Vulnerability to Build Trust and Deepen Connection
We are more than our title – we are human, dynamic, and sometimes messy. When we are publicly vulnerable and share our stories, we can lead others to do great things
Story of Self: Reveal Something Personal About Yourself
My friends Heather and Julian over at The Million Person Project say, "Your truth will set us free." They're right, you know.
About two weeks ago, I saw an email in my inbox with the subject line "Dad" and a short message that read: "Dear Jared, Did your dad live in Philadelphia and go to Temple University during the late sixties? Scott."
Yes, in fact he did. He was born in Philadelphia on March 20, 1949, and graduated from Olney High School in 1966. He went down to Emory University in Atlanta for his freshman year of college, got into a little bit of trouble, and made his way back to Philadelphia and Temple for the 1967 school year. That's what I told Scott in my response. I also told him that my dad was gay and died from complications from AIDS in 2000.
He responded: "I knew your dad at Temple from 1967 to 1969. We were very good friends and shared an apartment in downtown Philly from September 1968 to June 1969. I have many fine memories of our friendship that I would be glad to share. With the war raging, the draft chasing us, and social norms on our ass, these were indeed nuts times. I knew your dad quite well and we had an interesting history together. Let me know if you would like further input from me."
I decidedly did want further input from him. I wanted to hear his recollections and impressions of my dad during that time before I was born, that time before he met my mom, that time before he told the world (and himself) that he was gay. I was eager to see if the timeline of events that I had patched together from various conversations with my mom, my aunt, and even my dad before he passed, were accurate. I wanted to hear if Scott had anything to add or revise to my narrative.
We set up a time to talk. Scott told me how he met my dad and the apartment they shared on Pine Street in downtown Philadelphia, and how much fun they had together, and how my dad was an avid reader, and how there were tanks on campus because of the unrest of the Vietnam war, and how my dad went down to the Outer Banks of North Carolina for a self-declared solo writing retreat, and how my dad loved to laugh and how hysterical they would get together, and how they would date women and how he showed no signs of homosexuality, and how he knew about my dad's suicide attempt because he saw the knife scars on his wrists but didn't know the story behind it.
Scott told me a lot – some of which I knew, but so much I didn't. Scott gave me a window into my dad's life before I was born. My dad has been dead now for almost two decades. It's sometimes difficult to pinpoint why I love him so much, why I miss him, and all the things I learned from him. Of course, I think about him every day, and I'm aware of the legacy he's left me, and I've written about him and our relationship publicly often (here, here, and here, for example), but talking to Scott for half an hour reminded me of the humanity of my dad.
We agreed to check in about once a month to share stories and memories.
Story of Us: My Story is Your Story Too
The personal is universal.
It is unlikely that your father was gay and died of AIDS, or that you recently got a random email from someone who knew your father back in college in the sixties. But what is entirely likely is that there are elements of my story that parallel elements of your story. By sharing my story – by sharing something very personal about myself – I give you and the world permission to share something personal about yourself. I show you – not just tell you – that it's okay to be vulnerable, that sharing your experiences and being emotional and having the courage to be real are all selfless acts of inclusive leadership.
When I share my story, not only do I show public vulnerability and give you a window into my soul, I spark something in you – a specific memory, a relationship that meant something to you, a new perspective from which to view your evolution of consciousness. I offer you a good-natured challenge to think differently about how you present yourself to the world. I present a new way of seeing yourself that will lead to you having deeper relationships, making greater impact, and experiencing personal and professional growth.
Story of Now: Why Does All This Matter?
When I lead with my story, I help you lead with yours. By being publicly vulnerable, I am modeling a way of being in the world that is centered in compassion and empathy and curiosity. By sharing my story, I am asking you – politely yet firmly – to also be compassionate and empathetic and curious.
This matters because most of us have been taught that showing emotion at work is unprofessional, that our personal stories don't belong in the workplace. Corporate culture insists that we separate personal and professional; that we don't bring our whole self to work; that we leave out all the heart and soul bits of ourselves and only bring the mind and body bits of ourselves; that we're here to do our jobs and only after we leave work are we allowed be our whole selves.
That of course is nonsense. Because none of that is going to build trust or deepen connection. None of that is going to inspire anyone to greatness. None of that is going to motivate people to be more innovative. None of that is going to bring out creativity. None of that is going to give people fulfillment. None of that is leadership.
You are more than an engineer, more than a marketer, more than an executive, more than a recruiter, more than a communications professional, more than a sales manager – we are all more than our jobs. We are all human – messy, imperfect, limited, but always dynamic humans. We are all leaders. And it is only when we are willing to be publicly vulnerable and share our stories that we can truly lead others to achieve great things together.
So, I've led by example by sharing a little bit of my story. Your turn. Who's up for the challenge? Your truth will set us free.
You might also enjoy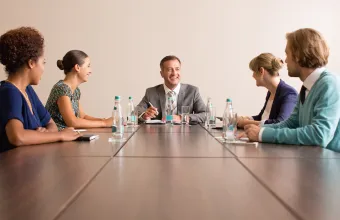 Inclusive leadership begins with an inner commitment to self development. When we are more mindful of the impact of our biases, perspectives, and interactions, we create a more inclusive environment for everyone.
Want to comment on this post?
We encourage you to share your thoughts on your favorite social platform.