Mental health and your online life
Written by Paige Hanson
June 7, 2022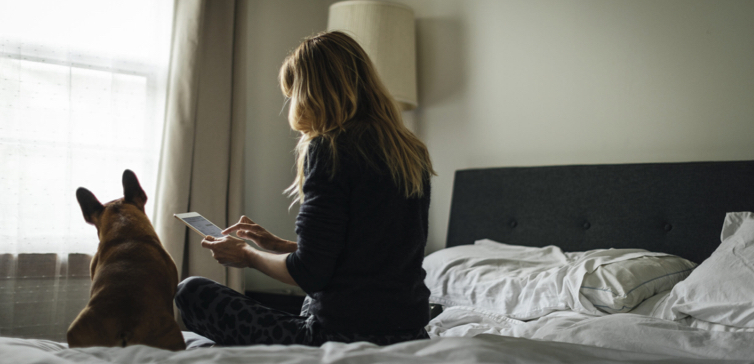 Digital crimes or online interaction can be more damaging to your mental health than those IRL, study finds
It's that time of day everyone dreads. It's the moment when you get that little phone or computer notification saying you spent way too much of your day looking at a screen.
In fact, according to Nielson and likely due to Covid forcing us to be online more than ever, the average American spends 11 hours a day staring at a phone, tablet, computer, or television. While a big portion of these hours are for school or work; they are also filled with personal activities like purchases to update your wardrobe, checking your investments, connecting with peers, posting on social media, or even looking for a relationship.
Cyberbullying
With an increased use in technology and social media, cyberbullying—which is defined as willful and repeated harm inflicted using computers, cell phones, and other electronic devices—has become more prevalent than ever.
In a recent survey, 27% of teens reported that they have been cyberbullied at some point in their lifetimes. With every click, the risk that someone out there will mock your appearance, circulate an unflattering photo, or start a rumor about you, continues to grow. Cyberbullying is especially harmful because it is difficult to find an escape from it when our digital devices allow us to see things 24 hours a day. Unsurprisingly, this takes a toll on one's mental health.
In a recent Norton commissioned study of mental health professionals, 89% agree that cyberbullying is more detrimental to mental health than in-person bullying because it has the capacity to be seen by an exponentially greater number of witnesses, as it's documented and can live online forever.
Romance Scams
Cyberbullying isn't the only worry that's impacting mental health when it comes to an increasingly digitalized world. Within the past year, an estimated $300 million was lost in romance scams—when a criminal adopts a fake online identity to gain a victim's affection and trust to create the illusion of a romantic relationship to manipulate and/or steal from the victim. Yet, the real damage to most victims isn't just to their wallet, it's also their mental health. 76% of mental health professionals agree that the stress experienced from being victim to a romance scam is virtually the same as being cheated on by a partner.
Online Identity Theft
While that stress seems unimaginable, any online scam can negatively impact someone's mental health. Online identity theft—a serious crime aimed at obtaining the personal or financial information of another person for personal gain—is no different. 88% of mental health professionals in Norton's poll believe that online identity theft has a similar effect to a person's psyche as the physical theft of a purse or wallet.
With both a recent rise in cybercrime and mental health struggles over the past year, the correlation between the two does not go unnoticed. The most common negative mental health symptoms among cybercrime victims were identified by Norton's panel of mental health professionals as anxiety (79%), depression (74%), and paranoia (56%) just to name a few. And these victims are not alone in their battles with mental health.
Mental Health Awareness Month
Currently, an estimated 1 in 5 American adults struggle with a mental illness. And this past May, the United States recognized these 53 million Americans as it has annually since 1949 with Mental Health Awareness Month. This month encourages both adults and adolescents to be on the lookout for symptoms of mental health disorders and seek help when struggling, while also striving to reduce the stigma surrounding mental illness. While we celebrate Mental Health Awareness Month each May, the importance of this topic continues beyond May 31. Between COVID-19, political and social unrest, and our lives becoming more and more dominated by online interactions, mental health has become table stakes. Mental health issues happen year-round, so don't let the conversation end here.
Taking Care of Your Cyber Health
There is no better time to start taking care of your mental health by first taking care of your cyber health and safety. While we can't always prevent coming in contact with bad actors, there are things that consumers can do to not only protect their personally identifiable information (PII), but also their mental health.
Protect your information: Don't share information, like your social security number, bank accounts, date of birth, etc. with anyone over the internet (or by phone or by email) unless you've initiated the communication and you know who you're dealing with. In addition, make sure the website you are on is secure (check for the "https" in the URL).
Limit your screen-time: This is especially important for children and teens. It's important to prioritize face-to-face interactions with friends and family—and to not let screen-time interfere with sleep.
Adjust your privacy settings: Nearly every online service and device you use has privacy settings. Consider adjusting your settings to control who sees what you post. When in doubt, stick with people you trust. Don't forget to turn off location services. Not every app needs to know where you are. The National Cyber Security Alliance provides direct links to the privacy pages for many devices and services.
Ask for help: At Norton, we believe that mental health is a key part of taking care of your full self. At some point all of us will need a little extra help and reaching out to a trusted person (friend, family, or a professional) is a first step. We also believe that taking care of your Cyber Safety is another important step in taking care of your mental health.
Find out more about living your digital life more safely at nortonlifelock.com/us/en.
**This online survey of 250 U.S. Mental Health Professionals was commissioned by NortonLifeLock and conducted by market research company OnePoll, in accordance with the Market Research Society's code of conduct. Data was collected between 4 May 2022 and 9 May 2022. All participants are paid an amount depending on the length and complexity of the survey. This survey was overseen and edited by the OnePoll research team, who are members of the MRS and have corporate membership to ESOMAR and AAPOR.
Editorial note: Our articles provide educational information for you. NortonLifeLock offerings may not cover or protect against every type of crime, fraud, or threat we write about. Our goal is to increase awareness about cyber safety. Please review complete Terms during enrollment or setup. Remember that no one can prevent all identity theft or cybercrime, and that LifeLock does not monitor all transactions at all businesses.