What Does Water Mean To You?
NortonLifeLock helps build an AquaTower in Tiruvannamalai, India
On March 22, 2021 we are celebrating World Water Day, an annual United Nations observance that highlights the critical importance of freshwater. The day focuses on raising awareness and advocating for the sustainable management of freshwater resources. This year's theme, Valuing Water, includes more than just the price tag on its bottle. Water is the cornerstone of our way of life, affecting not only our health, but also our food, culture, environment, and education.
Since 2009 Planet Water Foundation, the organization I work for, has provided access to safe drinking water, sanitation, and hygiene education to over two million people in impoverished communities in the Asia-Pacific region and Latin America. This year on World Water Day 2021, we combatted the global water crisis by providing life-changing solutions to over 30,000 beneficiaries across 19 communities in five countries.
We are thrilled that NortonLifeLock supported our efforts and through our Project 24 campaign funded the deployment of an AquaTower at Panchayat Union Primary School's campus in Vandavasi, Tiruvannamalai in India.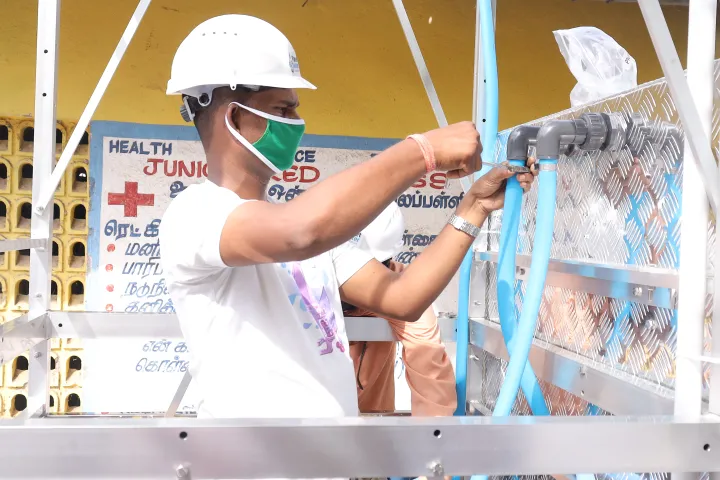 The borewells in Tiruvannamalai are currently contaminated with sewage water and unfit for consumption. Nevertheless, villagers drank this water as they could not afford other options. This caused unnecessary illness as well as a high absenteeism rate from school; education simply becomes less of a priority with a lack of clean water. With the installation of the AquaTower last week, we are now able to provide the people living in the village easy access to clean, safe drinking water.
The AquaTower is capable of producing 1,000 liters of clean drinking water per hour and additionally functions as a hand washing facility for the students and their families. Along with the AquaTower, the village has received an AquaSan surface disinfection system, which provides the community the capability to sanitize the school environment meeting World Health Organization standards.
One of the most beneficial impacts of the AquaTower is that it reduces the level of illness amongst the children, and gives them more time to spend in school to focus on their education. By providing access to clean water, we are also reducing the need for the children to miss class to fetch water miles away, or to take care of a family member who has fallen sick due to contaminated water. More time in the classroom gives the students a greater opportunity to break the cycle of poverty and build a better future for themselves.
Over the next four years, Planet Water's India based team will continue to work with the local villagers and support Panchayat Union Primary School's clean water system with sustainability visits to ensure the system is being properly maintained and to provide retraining for the custodial staff as needed, ensuring a better, brighter future for this community.
If you're interested in helping our cause or learning more, you can find further information at planet-water.org.
Want to comment on this post?
We encourage you to share your thoughts on your favorite social platform.